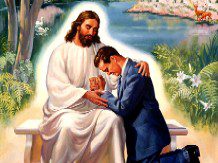 We offer Confessions in the Chapel – Saturdays from 3:00 pm to 4:00 pm
or by appointment, call the church office.
Reconciliation heals our sins and repairs our relationships:
Individual confession with a priest is the principal means of absolution and reconciliation of grave sins within the Church. The Sacrament of Reconciliation frees us from sinful patterns of behavior and calls us to complete conversion to Christ.
The sinner wounds God's honor and love, his own human dignity…and the spiritual well-being of the Church, of which each Christian ought to be a living stone. To the eyes of faith no evil is graver than sin and nothing has worse consequences for the sinners themselves, for the Church, and for the whole world. (CCC 1487, 1488)