---

Catholic Online Resources
Daily Mass:
St. Elizabeth's Facebook page- live stream: CLICK HERE
Radio Paz 830 AM: en Español, escuche en la estación 830 AM.
Relevant Radio 880 AM or 1080 AM: in English
EWTN in English: 8 am daily, repeated at noon and 7 pm. It can also be accessed at com/tv/watch-live or heard at ewtn.com/radio/listen-live; or accessed at any time at: https://video.ewtn.com/daily-mass/.
EWTN en Español: 2 am and 11 am, misa diaria del Papa desde Santa Marta; 8 am, Misa Diaria en vivo. Ir a: https://www.ewtn.com/multimedia/live-es.asp; o escuchela en https://www.ewtn.com/multimedia/live_player-es.asp?sat=radios
CatholicTV Network: Sunday through Friday in English, Sundays in Spanish. Go to: www.watchthemass.com
Sunday Mass: 
Live-stream St. Elizabeth of Hungary Mass at: https://www.facebook.com/stelizabethpompano/
On the archdiocesan website, miamiarch.org : in English and in Spanish from 6 p.m. Saturday through all of Sunday; and from 4 pm Saturday through all of Sunday on our You Tube channel. The English Mass also can be viewed at 6:30 am Sundays on WSFL-39.
La Misa de Español puede ser vista a las 6:30 am los domingos en WLTV 23-Univision y a las 7:30 am y 12:30 pm. Los domingos en el Canal Sur. Visit https://www.miamiarch.org/CatholicDiocese.php?op=Television_Mass.
Television Airs every Sunday morning /Misa atra vez de la Television todos los domingos:
6:30 a.m. – Misa en español en Univision 23 WLTV
6:30 a.m. – English Mass on WSFL 39
Spiritual Communion Prayers
Act of Spiritual Communion
For those unable or not yet prepared to receive the Sacrament of the Eucharist, you are invited to pray the following Act of Spiritual Communion at the time of Holy Communion.
My Jesus, I believe that You are present in the Most Holy Sacrament.
I love You above all things,
and I desire to receive You into my soul.
Since I cannot at this moment receive You sacramentally,
come at least spiritually into my heart.
I embrace You as if You were already there
and unite myself wholly to You.
Never permit me to be separated from You.
Amen.
Comunión Espiritual
Para aquellos que no pueden o aún no están preparados para recibir el Sacramento de la Eucaristía, se les invita a rezar la Comunión Espiritual en el momento de la Sagrada Comunión.
Creo, Jesús mío, que estás real
y verdaderamente en el cielo
y en el Santísimo Sacramento del Altar.
Os amo sobre todas las cosas
y deseo vivamente recibirte
dentro de mi alma,
pero no pudiendo hacerlo
ahora sacramentalmente,
venid al menos espiritualmente a mi corazón.
Y como si ya os hubiese recibido,
os abrazo y me uno del todo a Ti.
Señor, no permitas que jamás me aparte de Ti.
Amén.
---
---
COVID-19 UPDATE – 

March 18, 2020 
English: In cooperation with efforts to contain the spread of the novel coronavirus (COVID-19), the Archdiocese of Miami announces the suspension, effective March 18, of all regularly scheduled celebrations of Masses or other liturgical events in parish churches and other public sanctuaries until further notice. Our Parish office will remain open to serve you.https://www.miamiarch.org/CatholicDiocese.php?op=Article_archdiocese-of-miami-suspends-masses-and-liturgical-events-until-further-notice
Spanish: En cooperación con los esfuerzos para contener la propagación del nuevo coronavirus (COVID-19), la Arquidiócesis de Miami anuncia la suspensión, a partir del 18 de marzo, de todas las celebraciones programadas de misas u otros eventos litúrgicos en las iglesias parroquiales y otros santuarios públicos hasta previo aviso. Nuestra oficina parroquial permanecera abierta para servirle. https://www.miamiarch.org/CatholicDiocese.php?op=Article_archdiocese-of-miami-suspends-masses-and-liturgical-events-until-further-notice_S
Creole: Frè ak sè mwen yo, Desizyon sa'a pa fasil pou pran, men avèk konsèy otorite yo, achevèk Florida yo pran desizyon pou kanpe tout mès avèk tout aktivite litijik nan Legliz katolik nou yo. Pè yo ap toujou selebre mès remèsiman avèk pou moun ki rekòmande mès chak jou yo. Men sa ap fèt san pèp la. Legliz la ap ret fèmen pou piblik la, jiskaske yon lòt desizyon va pran. Biro Legliz la ap ret ouvri pou sèvi pèp Bondye a. Pè nou yo ki aje oubyen ki malad, dwe rete yon kote pou pran swen tèt yo, pou pwoteksyon pa yo avèk pwoteksyon pèp la. Mèsi pou konpreyansyon nou. N'ap mande pou yonn priye pou lòt.
---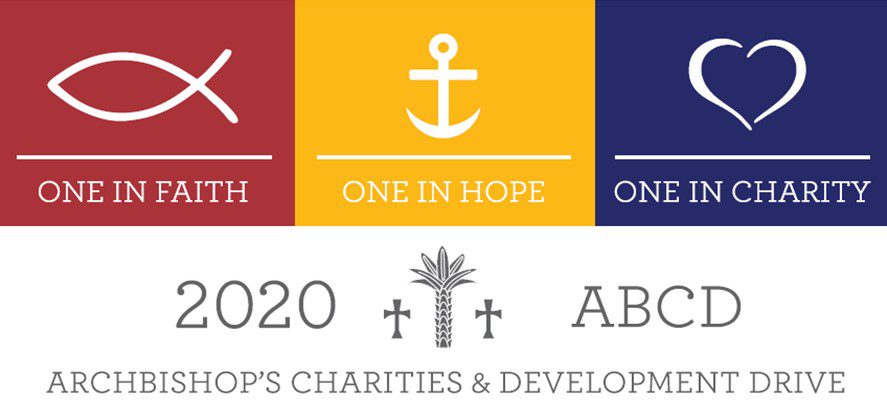 2020 ABCD 
Thank you for your participation in and support of the annual Archbishop's Charity and Development Drive (ABCD). As we go through the year, our parish counts on the support of our community so that we can not only achieve our parish goal, but also so that we can unite as a Catholic community to serve those in need. If you have made a pledge, thank you for your continued generosity to fulfil that pledge. If you have yet to make a gift, please consider making a gift to ABCD today!
Through your generous support, we serve hundreds of thousands of individuals and families in our Archdiocese through outreach, formation, evangelization and worship. Thank you for mirroring the love of Christ through your generosity!
---
TELEVISED SUNDAY MASS!
A televised Sunday Mass is now airing on ABC Family from 6:30 am to 7:00 am each Sunday morning. THE SUNDAY MASS is produced by the Passionist Fathers and Brothers out of New York City and is available nationally on local affiliates. Too early for you? Tape it or Tivo it! For more information consult the website at www.TheSundayMass.org
---
VOCATIONS
Have you considered if you have a vocation to the religious life?
This is a link with some simple questions to ask to discern if you might have a vocation to the religious life.