Click here to read Archbishop's Message
---
A MESSAGE FROM OUR PASTOR, REV. HARRY LOUBRIEL
Spanish Letter:  Carta en Español
Creole Letter:     Lèt an kreyòl
Dear community of Saint Elizabeth of Hungary,
Let me start by saying that I miss you greatly. I miss celebrating the Eucharist with all of you and having our conversations after mass. I hope and pray that this note finds you and your family well and healthy in the midst of these challenging and uncertain times, during the outbreak of Covid-19. I'm looking forward to the day when we will gather, again, to celebrate mass and other sacraments as well as resume our normal parish activities. In the meantime, we must practice prudence and safety by following the directives of local and national governmental agencies along with ecclesial to lessen the spread of the coronavirus.
Even though all masses with congregation have been suspended, I want to assure you that daily and weekend masses have been and will be celebrated for your intentions and prayers. In this time of physical separation, the table of the Eucharist unites us as one, the Body of Christ. I invite you to keep yourself united with one another and with Christ through prayer and devotions. Archbishop Wenski invited all of us to join him in praying for protection in time of pandemic:
O Mary, you always brighten our path as a sign of salvation and of hope.
We entrust ourselves to you, Health of the Sick, who, at the Cross, took part in Jesus/ pain while remaining steadfast in faith.
O loving Mother, you know what we need, and are confident you will
provide for us as at Cana in Galilee.
Intercede for us with your Son Jesus, the Divine Physician, for those who have fallen ill, for those who are vulnerable, and for those who have died.
Intercede also for those charged with protecting the health and safety of others
and for those who are tending to the sick and seeking a cure.
Help us, O Mother of Divine Love, to conform to the will of the Father
and to do as we are told by Jesus, who took upon himself our sufferings and carried our sorrows, so as to lead us, through the Cross,
to the glory of the Resurrection.
Amen.
Truly, these are difficult and challenging times and we may feel afraid with so many uncertainties. We have to do our part in staying safe and protecting others by social distancing until this illness is eradicated. Know for sure that I'm keeping all of you in my prayers and if you need anything from us please do not hesitate to give us a call at the office (954) 941-8117 or send us an email: stelizabeth@bellsouth.net and we will do our best to assist you.
Take care, stay safe and healthy,
Many blessings,
Fr. Harry Loubriel, Pastor
---
Additional steps each of us can take against Covid-19:
If you are sick, please stay home.
Wash your hands with soap and water for at least 20 seconds several times a day.
Avoid touching your eyes, nose and mouth.
Avoid close contact with people who are sick.
Remain informed by visiting the website of the Center for Disease Control and Prevention (cdc.gov).
We hold in prayer all those infected with the virus, their families and loved ones. We pray for the repose of the souls of those who have died. As a people of faith, we trust in the power of prayer and in the providence of our loving God; as a people of hope, we know that God will never abandon us in our need; and as a people of charity, we, despite our own fears and anxieties, stand in solidarity with all of our brothers and sisters infected or affected by this pandemic.
---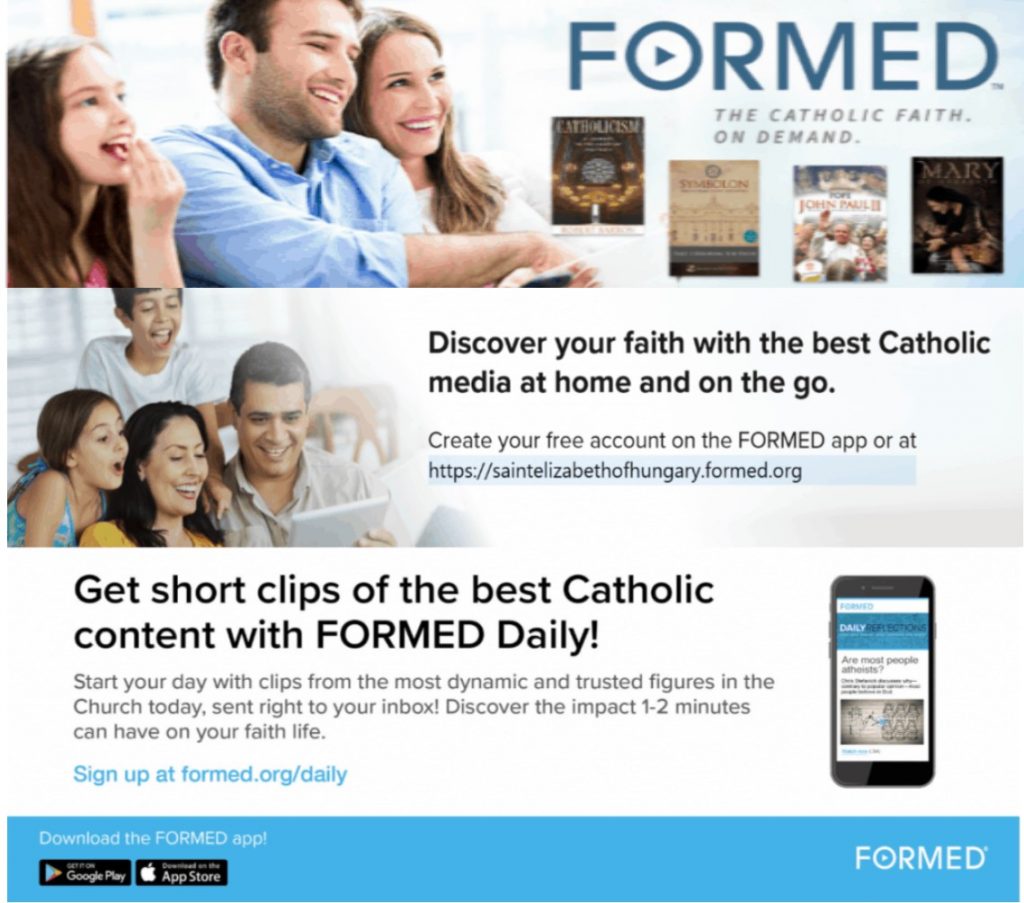 ---
Mission Statement
We, the Catholic people of St. Elizabeth of Hungary Parish in Pompano Beach, Florida are a welcoming, caring community of believers, composed of different ethnic origins…READ MORE